5 July 2014, Riverside Majestic Hotel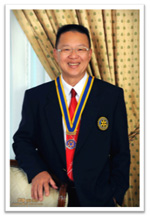 Louis Yong Lin Lin,
Incoming President
The Rotary Club of Kuching Central (Rotary International District 3310) will fete its outgoing President, Patrick Luk and install their new President Louis Yong Lin Lin at the Sarawak Chamber, Riverside Majestic Hotel, Kuching on Saturday, 5 July 2014.
At the same time they will be honouring their distinguished members and supporters in this annual glittering ceremony. The Guest of Honour at the installation is the Rotary International District  3310 Governor 2014-15 Haji Andre Suharto.
Louis Yong was born in Serian. He furthered his studies in the Electrical and Engineering field in Kuching, obtaining his Diploma in this discipline. Louis is currently an Executive Director in both Tenaga Suria Hybrid Sdn Bhd and Hydrosis Corporation Sdn Bhd. The companies are involved in solar power generation and water filtration businesses. He is also an independent non-executive director of Kim Hin Berhad, a BURSA main board listed company in the ceramics tile manufacturing business. Louis is happily married to Mimi Goh and they are blessed with 2 sons, Eldarius and Elzendher, and 2 daughters, Kiyomi and Cadence.
Immediately after the installation, the new President Louis Yong will install his new Board of Directors.
Every Rotary Year is guided by a theme selected by the President of Rotary International. For the Rotary Year 2014-2015, Rotary International President Gary Huang asks all Rotarians worldwide to LIGHT UP ROTARY. This theme captures the essence of Rotary service. He wants Rotarians to make sure that every Rotarian has the same feeling about Rotary and a meaningful role to play.
In accordance with Rotary International Goals, emphasis will be places on a number of service projects for the current Rotary year. Rotarians will continue to devote their professional and business skills to participate in local and international service projects related to the following Rotary's 6 areas of focus:
- Peace and conflict prevention/resolution
- Disease prevention and treatment
- Water and sanitation
- Maternal and child health
- Basic education and literacy
- Economic and community development.
'LIGHT UP ROTARY' is the Rotary International Theme for 2014-2015.
In accordance with the Rotary theme, Louis Yong has outlined a number of projects which he will continue or implement for the current year.
He and his team will continue the Club's signature project, which is Preventive Blindness. The Club will continue to carry out eye screening services, cataract and pterygium operations in partnership with the Sarawak Medical Services and CIMB Community Link as the main financial sponsor. Together with our partners, our Rotary Club has provided free cataract and pterygium operations to low-income residents in Kapit, Lundu, Bau, Serian, Sri Aman, Betong, Sarikei, Daro, Pulau Bruit and surrounding areas.
Continue implementing Solar generated electrical power projects in rural Sarawak..These Solar power projects are expected to supplement the cost and logistical challenge of bringing diesel to isolated longhouses of our rural community. They will provide basic lighting and electrical ventilation for families of these communities. More importantly, it will also allow mobile devices charging such that telephone contacts can be maintained with the outside world. This will be extremely useful in times of emergencies. Laptops and tablets provided by Government grants and subsidies can also be used extensively for educational and informational purposes since they now have a power source.
To support the Rotary Foundation in Rotary's 'END POLIO NOW' campaign and its quest to rid polio from the face of the earth. Rotary club of Kuching Central is planning to organize a 400km 'Polio Walk' from Sibu to Kuching in the month of May 2015 in conjunction with District Conference 2014 / 2015 for District 3310 that will be held in Kuching.
To implement a clean water supply project under Global Grant by The Rotary Foundation for a cluster of longhouses in Melikin area, Balai  Ringgin under Serian District. This project will benefit over 700 end users with supply of portable clean water for their basic household needs
To participate with other International Rotary Clubs in joint projects, such as carrying out cataract screening for 25,000 West Bengalis in India and performing an estimated 2,500 cataract operations thereafter. We are also participating in a Rotary International acclaimed  project to provide mentoring and financial assistance to under privileged students in Malang, Indonesia with vocational training for their parents in order to improve their economic well being. Another project to be undertaken is with Rotary Club of Bandung to build sanitary premises with its accompanying facilities for Pangalengan Primary School on the outskirts of Bandung, Indonesia.
Carry out fund raising for charity sales held by PERKATA, Kuching Autistic Association, Sarawak Children Cancer Society and Salvation Army of Sarawak.
Rotary year 2014 -2015 is also special to Rotary Club of Kuching Central as one of its chartered member, Andre Suharto has just been installed as District 3310 Governor, the very first District Governor from RC Kuching Central. District 3310 has 62 Rotary clubs with a membership of over 1700 spread over 3 countries namely Singapore, Brunei and Malaysia ( states of Malacca, Johore, Sarawak, Sabah and federal territory of Labuan FT ).