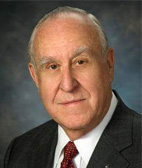 Dear Club Officers of District 3310,
I want to congratulate each of you on your installation as one of the 2016-17 Rotary club officers of District 3310.
As a club officer, you can help strengthen your club – raising awareness of its work, gaining new members, and helping to carry out projects that have a lasting impact. Your guidance and example are essential to keeping your fellow Rotarians enthusiastic and engaged. Our success as a service organization begins at the club level – Rotarians are the foundation of everything that Rotary stands for. Without active members like you, we would not be the organization we are today.
Congratulations again on your new position. I look forward to a year of great accomplishments with your help, and of Rotary Serving Humanity.
John F Germ
2016-17 President, Rotary International