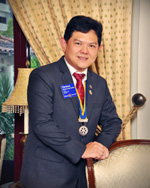 Dear Fellow Rotarians, Spouses, and Friends,
Rotary's founder, Paul Harris, believed that serving humanity is 'the most worthwhile thing a person can do,' RI President 2016-17 John F. Germ said, and that being a part of Rotary is a "great opportunity" to make that happen. "I believe everyone recognizes the opportunity to serve Rotary for what it truly is: not a small opportunity, but a great one; an opportunity of a lifetime to change the world for the better, forever through Rotary's service to humanity," said Germ when he unveiled the annual Presidential theme for Rotary year 2016-17, Rotary Serving Humanity.
I am proud to say the organization we are in today, Rotary International, leads the world in volunteer service.  Rotarians are dedicated to serve Humanity with the common goal of 'Service Above Self'. We are an inspiration to others. Let us live up to our goal to always do good in the world by serving Humanity.
It is indeed a great honour for me to have been given the opportunity to be the 31st president of this dynamic service club that has carried out a number of significant projects over the past three decades that has benefited numerous underprivileged and needy people
I would like to congratulate our World Class Outgoing President Ng Yaw Hua and his team of office bearers for an outstanding year, and for achieving the Gold-Level Rotary International Presidential Citation. To President Yaw Hua, thank you from the bottom of my heart for your commitment and unseen dedication in leading the club with great distinction. Your commitment to excellence has inspired others. I will endeavour to continue your goodwork, although you will be a hard act to follow.
I wish to extend my sincere appreciation to Past District Governor Haji Andre Suharto for introducing Rotary to me and for his encouragement for me to take this role on, a decision I didn't make lightly.
As I look forward to the new Rotary year, I am excited about the possibilities.  I believe all leaders are nothing without a great team,and I know that I will have the greatest club with the best club officers, and directors standing behind me. Not forgetting the excellent Rotary Family spirit that we always enjoy by including our families in our fellowships and service events. We are very proud of this unique tradition.
This year marks an important milestone for our club as we will be celebrating our club's 30th anniversary.  I would like to take this opportunity to pay tribute to all our charter members, past presidents, and members for their hard work and tireless efforts to carry out so many humanitarian projects over the years. May RCKC continue on its quest to serving humanity to the best of its abilities.
On behalf of the Rotary Club of Kuching Central, I wish to express our sincere gratitude to our distinguished Guest of Honour District Governor Michael Yee for gracing our installation dinner.
Special thanks to Organising Chairman PE Benjamin Lo and his committee for their efforts to make this event a success. I also wish to express my appreciation to our guests, friends, supporters and families of Rotary for your contribution, attendance, and tremendous support.

Yours in Rotary,
Clarence Yong
President 2016-17
Rotary Club of Kuching Central